4.09.2009
Posted by Bettie Blogger at 1:31 AM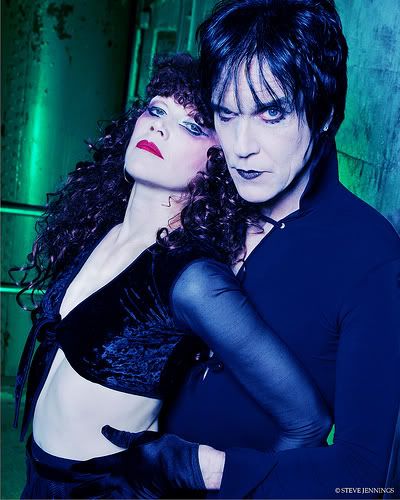 Who here is bummed that they'll never see THE CRAMPS again?
While many obits were fawning with praise for the "craziness" of the Cramps (and Lux's performances), few people -- even the "fans" who toasted his memory, seem to really get what he was about. Lux was a giant vinyl-diving music geek who used every fiber in his being to kinetically pass that enthusiasm for primitive rock and roll on to as many people as he could in his too-short life.
Lux was like a giant transvestite Alan Lomax -- a musicologist
par excellence
. In thinking of a simple way to convey how much good old music The Cramps dug up and brought back to life, I figured I'd refer back to an amazing (now sadly out of print) 3 CD set called SONGS THE CRAMPS TAUGHT US (an obviously play on The Cramps' album, SONGS THE LORD TAUGHT US). The track listing of those CDs isn't even an exhaustive list of the tunes The Cramps either "adapted" or covered. It is a fair representation of the sonic palate of a band often written off as a gimmick band. Nothing could be further from the truth, as their music touches on country blues, garage psych, surf, exotica, "crime jazz", the uncatagorizable Hasil Adkins and rockabilly and country of every stripe. So as not to clutter this post, I've put it
HERE
.
For 300+ more examples, run to
"Kogar the Swinging Ape" at GaragePunk.com
and download his TWELVE volumes of "Lux and Ivy's Favorites" -- a process he's been working on since the mid-90's, essentially digging up any song Lux and/or Ivy mentioned in an interview! It is cross-posted at
WFMU
.
Jason Gelt at the
EXAMINER
, in a posting similar in spirit to this one, lined up a whole slew of these tracks for you to
enjoy
, via YouTube.
A testament to Lux as a nice guy can be found in a diary at the
DailyKos
(an article even a Republican can like).
Lux seemed generally pleased by the resurgence of rockabilly/retro/trash culture, even going so far as to use Bettie Page as the baromoter:
At one time no one ever knew who Bettie Page was and we really loved Bettie Page and I can't believe that now she's as well known as Marilyn Monroe or somebody.
~ Lux Interior in GravyZine
Not that the modern rockabilly scene didn't fall prey to some criticism by one of its architects:
Lux: There seems to be a lot of bands that seems to treat it too reverently. You know, they sing about boppin' in the soda shop and all this kinda stuff and that ain't what rockabilly is supposed to be about. It's really supposed to be about sex. And I like Reverend Horton Heat, they do something new with it, and there are a few other bands that do. I wish that somebody would take Rockabilly a step further, and Psychobilly that's not sexual enough, it's too fast and not sexual enough most of the time. It's kind of like Rockabilly mixed with punk. It seems it's not as sexy as it should be.

~ Lux Interior in GravyZine
Here's a
CRAMPS FANPAGE
, with a comprehensive gig list, discography and other goodies.
On the same site, there's a FREE, downloadable 39 track (!!!) Cramps tribute album,
TRASH IS NEAT VOL. 3
. The usual mixed bag, but what do you want for nothin'?
On a personal note, my involvement in this whole scene came down to three artifacts that came into my life at the right time - Two dusty Johnny Cash records (a reissue of random SUN sides and SAN QUENTIN), a Dave Stevens poster of Bettie Page and a cassette of THE CRAMPS - BAD MUSIC FOR BAD PEOPLE.