4.28.2009
Posted by Bettie Blogger at 8:19 AM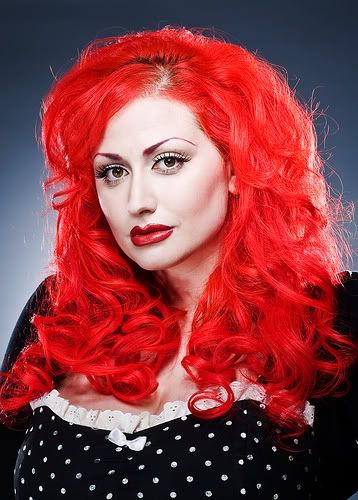 As you know, all of us at the Bettie Page Blog have been positively frothing at the mouth... mainly due to a sudden onset of swine flu, but ALSO over the new World of Wonder Storefront Gallery show, BETTIE PAGE: HEAVEN BOUND, featuring the art of Olivia De Berardinis. The show is curated by the glamorous, multi-talented LENORA CLAIRE. In addition to a career as a journalist, writer, model, actress, artist, cartoon-character-inspiration, TV producer and glass-eater, she has been the curator of numerous eye-popping, jaw-dropping group shows that feature an unholy collision of high art and pop culture.

She has been kind enough to give us a taste of what we can expect when the show opens this coming Saturday (May 2nd).

BPB:
First of all, in light of your show "Golden Girls Gone Wild", you have my deepest sympathies regarding the tragic loss of Bea Arthur. How many of these "concept" art shows have you curated for World of Wonder and how did you come to do them?
LC:
Thank you. While I never got to know Bea personally she inspired me on many levels. She was a giant talent for sure.
Bettie Page: Heaven Bound
will be my third show at World of Wonder. I was a fan of World of Wonder's tv shows and films for years (
Party Monster, Inside Deep Throat, RuPaul's Drag Race, The Perez Hilton Show
for VH1, etc.) and got to know the owners Randy Barbato and Fenton Bailey via my friends, James St. James, who wrote Party Monster, and WOW producer Thairin Smothers.
Through a lucky series of events World of Wonder opened a gallery on the lower level of their beautiful art deco production offices and my wacky shows found a home.
BPB:
Much of your work and life seems to swirl around the notion of celebrity...
So my question to you, is if Heidi and Spencer call their wedding reception an "after party" on the invite, does that ruin the illusion?
LC:
Growing up in Los Angeles, the idea of a celebcentric universe always seemed to be the norm. I'm sure it's not entirely healthy but it's what I know. If you look at Hollywood historically, it has always been based on illusion, so I don't think Heidi and Spencer will make everything go up in smoke (and mirrors).
BPB:
Seriously, you successfully manage to celebrate and lampoon celebrity at the same time. In a way, you send it up, but you also, obviously, are not unwelcoming of attention... what are your feelings about gossip and star worship?
LC:
Are you familiar with the story of Thomas Ince? I'm going to get all Hollywood Babylon for a sec
(ed. note: Hollywood Babylon: The Legendary Underground Classic of Hollywood's Darkest and Best Kept Secrets
and the equally-juicy sequel are meticulously researched histories of early Hollywood written in a dishy style by avant-garde filmmaker KENNETH ANGER. Read, now!)
, but legend has it that Ince was accidentally killed on a pleasure cruise by William Randolph Hearst, who at the time was one of the most powerful men in America.
Supposedly Hearst was actually going after Charlie Chaplin, who he believed was messing around with his lady Marion Davies. It's been said an entire boat load of Hollywood elite -- including gossip columnist Louella Parsons -- witnessed the murder and cover up, which is interesting as Parsons soon appeared in every one of Hearst's newspapers.
What I am getting at is that the idea of a powerful Perez Hiltonesque gossip figure is not new at all. Only the ability to report with lightning speed is new. Both gossip and star worship are equally powerful because we as a society give them that power. Parsons and everyone on that boat could have taken the almighty Hearst down but I suppose that was for Orson Welles to do later. I just think it's a great story about Hollywood and the power dynamic when it comes to gossip.
BPB:
Do you regard your own persona as an exercise in Andy Warhol's concept of "superstars" or do you have plans to assault the mainstream?
LC:
My goals are very mainstream and I would never limit myself that way [to be a Warhol-style "superstar"]. I currently appear as part of the USA Network Character project ad campaign which landed a giant billboard in Times Square with my face on it and a pull out poster in Vanity Fair, so there is really nothing underground about me.
My art shows have been covered by everyone from NPR to National Enquirer and my birthday party was filmed for Canal Plus in France. I'd like to think that since I've appeared on tv in the US and Europe I'd qualify as International.
Socially it's fair to say I hang out with the "LA underground", as I'm fascinated with various subcultures and anyone that lives life on the fringe and I do think I'm a superstar because I do everything I want to do. Anyone who lives their life on their own terms is a superstar in my eyes. It's not an easy thing to do.
BPB:
In another interview, you mentioned being a "former glass-eating performance artist". Your careers, from writing, acting, curating art shows and performing, evidently, in "sideshow" has put you in the center of a number of different subcultures. What are your feelings about these subcultures -- do you think they are interrelated or do they just oddly overlap when a few key icons, such as Bettie Page are concerned?
LC:
Of course they overlap. My goal is to get everyone together and have a good time and I think I have been really successful in that.
BPB:
How do you speak to these different subcultures at the same time?
LC:
I can speak freak. Just kidding. What I say is from the heart so I can communicate with everyone.
BPB:
I've read that you've been a fan of
Olivia
since you were fifteen and have now become close with her and her partner-in-crime, Joel Beren. You've even posed for her, essentially joining Bettie as an object of
Olivia
's art. For those of us who don't have a figure that would interest
Olivia
, what's that like?
LC:
It's a total dream come true. Everything about
Olivia
is amazing. It's an honor I still can't quite verbalize. I'll just say I feel so lucky to have the relationship I have with her and Joel and to be included in her art both as subject and curator. She's the coolest. An absolute art goddess
but she's also really funny and gives great advice.
BPB:
For those out there who missed the Jack E. Jett show, could you explain the show and your role on it? It was the first time I saw you on tape and it was pretty impactful!
LC:
Jack is a nut. I love that guy. Originally I was supposed to only be on once as a guest eating glass but but we got along so well and share such a similar wacky sensibility I was on a few times.
BPB:
These art exhibits, while garnering a lot of attention, seem to be only part of the plan for world domination. Care to tell us about "doNUTS" and your cartoon?
LC:
I have a tv project in development -- which is my ultimate goal -- called Apocalipstick. Since getting a show sold and actually on air is quite a process, I've decided to produce inexpensive webisodes to show the world what I've got.
My first series is called
doNUTS
and it involves me in true reality/documentary fashion interviewing the drunks, paranoid schizophrenics, conspiracy theorists, and other colorful characters that hang out all hopped up on sugar and caffeine at late night donut shops. You can view the episodes at
www.wowtv.tv
My cartoon was created by the genius Glen Hanson
www.GlenHanson.com
who is another good friend that I love working with.
BPB:
The exhibit is called "Bettie Page: Heaven Bound". Was is conceived after her death, or did it turn into a memorial after she passed?
LC:
It actually evolved out of another idea. Originally I was going to do a drawing salon and have
Olivia
be the the special guest. Then Bettie passed and we had the idea of making the salon a tribute to Bettie. Then we thought it would be great to hang out. Then we thought it would be great to hang art. Then it just evolved in to an epic group show.
BPB:
Why Bettie Page? What is it about her that, you feel, continues to fascinate so many people?
LC:
Because she was so completely progressive for her time. It took 50 years for the rest of the world to catch up to her.
BPB:
Some find it strange to be "lost in the 50's" with Bettie Page, since it was such a regressive time in so many ways. I think it's important to note that Bettie, while being a Born-Again Christian, never had a condemning word about gay people that I've read, befriended a black man when that wasn't cool, and is rightfully celebrated for advancing the notion of "sex-positive" feminism (even if Bettie, herself, would just shake her head and say, "um, I just posed in my underwear because it beat being a secretary"). While there is a kitchy element to Bettie, there are some deep politics under the surface of those photos. What do you think Bettie "means" in a political sense?
LC:
I think you nailed it. She was so absolutely ahead of her time opening up all of these debates. If art is something that makes you think and feel Bettie certainly qualifies. That's why she's a legend.
BPB:
Especially since World of Wonder and you are so plugged in to the gay community, how is she seen differently by straight people and gay people? She doesn't seem to be the icon, say Bea Arthur was (LOL), but those bangs have framed the faces of some fierce drag queens over the years...
LC:
Since I'm a straight girl that seems to have penetrated queer media, hopefully that qualifies me to answer your question. I think the gays have a very "go girl!" attitude and Bettie is the total personification of that. Plus with all of her costumes and attitude Bettie was a total drag queen.
BPB:
The lists of artists included in the show are a nice mix of people known to the Bettie world and people known to the World of Wonder fans. What was your thought process in populating the show?
LC:
Well,
Olivia
was the major starting point, of course. Then we all thought how cool would it be to get Bunny Yeager, who shot many of Bettie's most iconic images, as well as Jim Silke, who is also really important in the Bettie universe.
I also asked Greg Theakston, who is fantastic, but he was busy with other commitments. I would love to work with him in the future though.
Austin Young
is a good personal friend of mine and I am so in love with his work and he's totally my good luck charm. I have him in every show. Austin has done an AMAZING job shooting everyone from
Margaret Cho
,
Perez Hilton
,
Jane Wiedlin
from the GoGo's, Cassandra Peterson (Elvira) as Bettie.
Colin Christian
is another one I was dying to work with. His sculptures are INSANE.
Marla Rutherford
is a really amazing friend of mine who has shot just about every major magazine cover you can think of. She's also who shot me for the USA Network Character Project campaign, so I thought it would be amazing to have her shoot Bernie Dexter, who is one of the top modern pinups and makes a great Bettie, while still doing her own thing.
Steve Diet Goedde
is a highly respected fetish photographer, so I thought his photos of Midori in Bettie's actual gloves would be a great addition, as well as represent the fetish community and that side of Bettie.
Ed Mironiuk
has been a friend of mine for years and I absolutely love his illustrations. I knew he would do a really beautiful colorful illustrated Bettie that would be different from everyone else in the show.
Spencer Davis
, who does the
Booty Babe
dolls, surprised me by doing one based on me and I thought how cool would it be to have him do a big Booty Bettie.
Claudette Barjoud and Jason Sallin
are friends of Olivia and Joel's, but as soon as they told me about the black velvet Bettie and Bettie sculpture I was sold.
BPB:
Finally, a sincere thanks for taking the time to talk with the Bettie Page blog... and a last question: How long do people have to catch the show?
LC:
Show kicks off with a gala opening reception Saturday, may 2nd and runs until the 29th.
Bettie Page: Heaven Bound
World of Wonder Storefront Gallery
6650 Hollywood Blvd., Hollywood, CA
(Two blocks east of Hollywood and Highland.)