4.22.2009
Posted by Bettie Blogger at 3:58 AM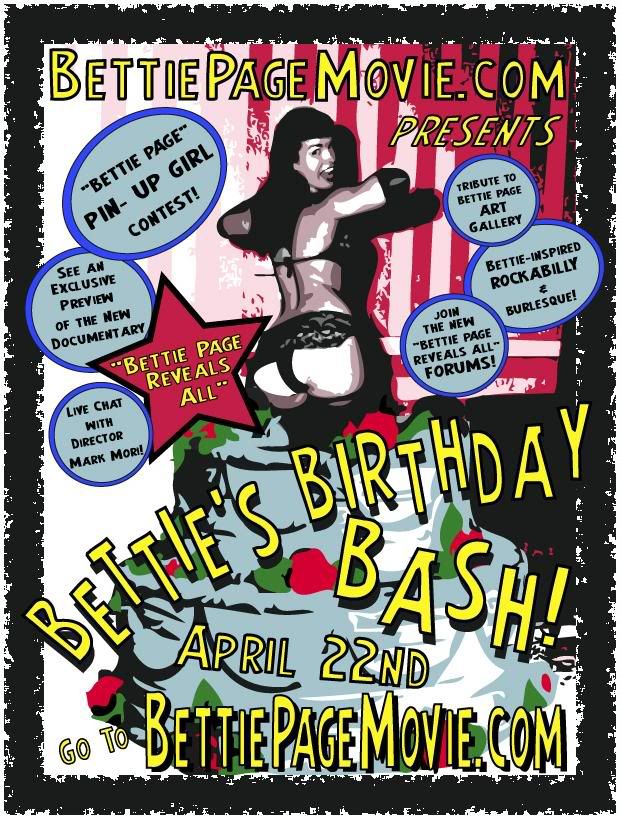 The upcoming documentary film, BETTIE PAGE REVEALS ALL is celebrating the opening of a new COMMUNITY FORUM for all Bettie Page fans on the site
BETTIEPAGEMOVIE.COM
HAPPY BIRTHDAY, BETTIE!
Already dearly missed, Bettie lives on in spirit, through her effect on all of us.
Join me and many other Bettie Page fans at:
http://bettiepagemovie.com
We will be taking part in their "Bettie Birthday Bash" on their BRAND NEW COMMUNITY FORUMS... a great new place for rabid Bettie Page fans... like you and me... to hang out, chat and share our common love of Bettie Page, Pin-Ups and Retro Culture!
As you can see from the nifty ad, they are featuring a pin-up contest that will feature contemporary pin-ups that are homages to the late, great Bettie Page. Many of the ladies competing are readers of the Bettie Page Blog... so show your support!
The man behind the site (and the upcoming documentary BETTIE PAGE REVEALS ALL), Mark Mori, had been part of Bettie Page's life since 1996, when he embarked on creating the definitive, insider account of her life and times. Containing many exclusive interviews and unseen footage, this documentary promises to be a real dream come true for all of us who miss Bettie.
So, on Bettie Page's birthday - April 22nd - hop over to this cool site, vote for your favorite pin-up gal and get better acquainted with BETTIE PAGE REVEALS ALL.