1.14.2010
Posted by Bettie Blogger at 5:07 PM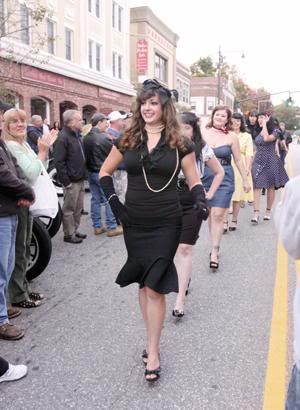 The Bettie Page look a likes pose as they wait for the announcement of the winners on Main Street. The event was sponsored by Brazen Betties, and was part of the Torrington Day celebration
Torrington, CT seems like a great place to live, given that part of their town's annual festivities included a Bettie Page lookalike contest, hosted by a very cool-looking independent fashion boutique (with a great name, to say the least). On the comments of the paper's online article, however, it's clear that not all residents are of that opinion:
My God Save Us

wrote

:




" Torrington Days used to be about food, cultures and good clean family fun. Not parading 1950s smut starts down Main St. You should all be ashamed of yourself, especially Mayor Bingham, Rose Ponte and Steve the helper for turning the streets of Torrington into a parading brothel. "
Nice to see that even after half a century, Bettie's aura of empowering sexuality (even fully dressed) is potent enough to ruffle feathers!